When the power goes out at your home or when you've misplaced your garage door remote, you always have the option to open your garage door manually. If you park your vehicle in your garage, it's a good idea to know how to safely open and close your garage door without power. The process is pretty simple, but there are still some important tips and safety considerations to keep in mind.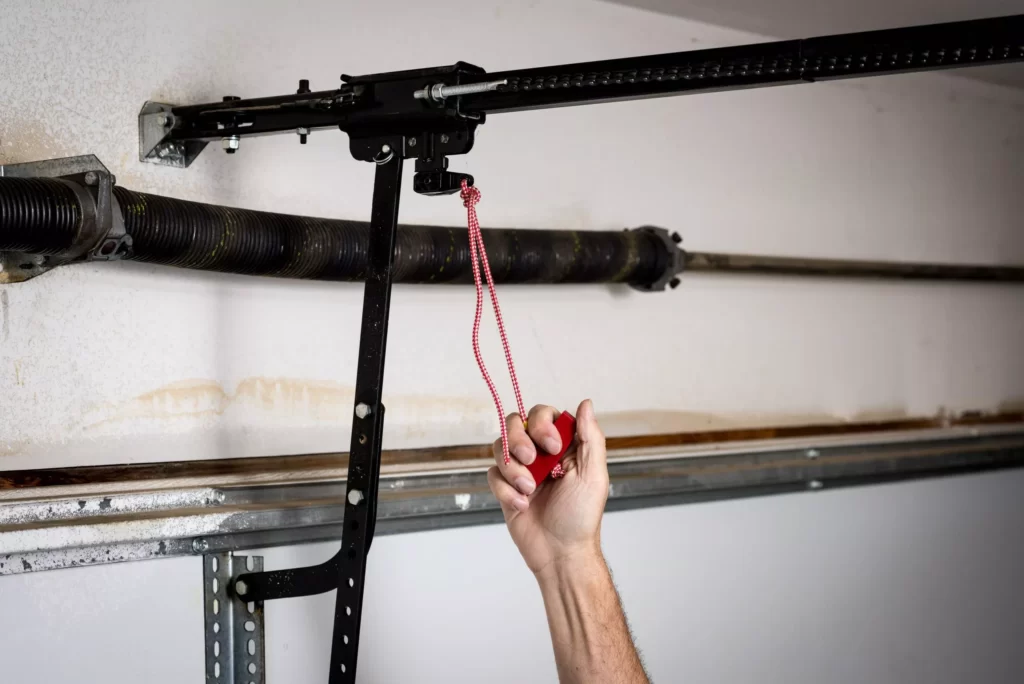 How to Open a Garage Door Without Power
You'll first want to locate the release handle on your garage door. Typically, this handle is red in colour and located near the door itself. Sometimes, the release may look more like a cord than a handle. Either way, it should be pretty easy to spot.
Pulling down on this cord or lever will release the garage door from the garage door opener while keeping the door itself on the tracks. You will likely need a ladder to comfortably reach this handle/cord and pull it with enough force to disengage the door from the powered opener. You should feel some tension when doing this, with a little force required to disengage the door.
Next, you should step carefully off the ladder and lift your garage door manually with both hands. Carefully and gently glide the door along the tracks until it is completely open. Don't hesitate to ask for help from another person if you need it! If you need to get your car out of the garage, you will need someone to hold the door open for you while you do so. If you don't, you risk the door falling onto your car, risking injury and property damage. We offer garage door spare parts on our online store in case something goes wrong.
To close the door, you will need to ease it back down carefully by hand; do not let go of the door abruptly, as it will fall and will likely damage the door itself or anything in its path. When you're ready to re-engage the door on the automatic opener, simply pull the lever or cord again with a fair amount of force.
Important Safety Considerations
When opening a garage door manually, it's important to keep the path of the garage door clear at all times. Serious injury could occur if the door falls while something or somebody is in its path.
If you want to avoid manually opening your door without power, you might want to consider investing in a garage door opener battery backup.
Interested in upgrading your home's garage roller doors and/or garage door opener? If so, Wholesale Garage Doors has the selection of roller doors and openers you need at competitive prices. We carry top garage door brands, for the very best quality garage roller door and panel lift garage doors. We're also able to deliver anywhere in Australia!
If you want a roller door price, a panel lift garage door price or just after a quote, check out our online garage door pricelist. We list all prices, with shipping included.